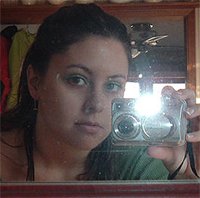 Me, I'm easy. I don't know about easy to understand but if I can get away with it I'm a creature of least resistance. I love pure things like animals and truth and rocks and artists and money. You might dispute the last one and I might too. I'm twenty-six, live in New England, and have a fiancÚ named Stephen. He's magnificent and we have no idea when we're getting married only that it isn't today or tomorrow.
I stole this picture from facebook because I don't have any ready pics of myself on camera (because I hate it!)
I've been playing Petz since 1998 and have always owned a petz site since then. You know those people who hex wonderful things? That's not me. It's taken me a while to pick it up but I'm getting deeper into the fine art of breeding petz. P.S. It's hard!
I proudly care for two Maine Coons, 3 laying hens, a cichlid, and three rats. And if my fiancÚ has his way it'll be yak shortly...
Interested in learning about my petz? While I do have a crew site partially underway, Elysian Fields housings my current breeding projects from dalmatians to mutts.